Direct Marketing: I'm a believer!
In mijn vorige post kon u lezen dat ik begin maart een Direct Mail van Delta-Temp zou uitsturen. Wel, op donderdag 8 maart is hij inderdaad in de bus gevallen. Ook al is het nog veel te vroeg om de respons hierop nu al te meten, toch ben ik er redelijk fier op.
Delta-Wie? DELTA-TEMP!
Toen ik enkele maanden geleden met Kurt, de zaakvoerder, naar Hasselt reed om onze ijsbaan op te bouwen, vertelde hij me het volgende:
"Een groot logistiek bedrijf, dat ook gekoelde opslagruimtes aanbiedt, had problemen met hun koelinstallatie. Ze hadden dus héél dringend koeling nodig om dit probleem op te vangen. Helaas contacteerden ze de concurrent, en dus niet Delta-Temp. Hoe kunnen we ervoor zorgen dat bedrijven in zulke situaties sneller aan Delta-Temp denken?"
En zo begon ik het idee van een Direct mail uit te werken. Ik weet uit ervaring dat Direct Marketing een veel diepere indruk nalaat dan above-the-line-communicatie. Met een niche-product/dienst als "het verhuren van industriële koeling" is dit absoluut nodig: de prospect moet als eerste aan Delta-Temp denken als ze noodkoeling nodig hebben. Aan wie denk jij het eerst als je auto in panne valt?
Na een tijdje brainstormen begin ik een vrij duidelijk beeld te krijgen van wat ik precies wou bereiken en hoe het er moest gaan uitzien:
Ik definieerde 9 specifieke sectoren die ik elk heel specifiek zou aanschrijven: vleesverwerkende industrie, groente en fruit, vishandel, aardappelsector, chemie, pharmaceutica, logistiek, brouwerijen en de rubber- en kunststofindustrie.
De mailing moest echt heel sterk opvallen en de nieuwsgiergheid triggeren.
Het moest vooral een informatief en zakelijk karakter hebben.
Onze naam 'Delta-Temp' en onze producten en diensten moesten duidelijk in beeld komen en in de 'Top-of-Mind' van de ontvanger blijven hangen.
Aan de slag…
Ik verzamelde de adressenlijsten per sector, begon aan het ontwerp, verzamelde beeldmateriaal, vroeg offertes op, schreef de teksten, zorgde voor de vertaling, enz…
En zo kwam het eindresultaat in zicht. Een drieluik op A5-formaat met een aantrekkelijke cover per sector in een omslag met panoramisch venster. Check de foto hieronder en laat me weten of het je zou opvallen als dit in je bus valt of niet ;-).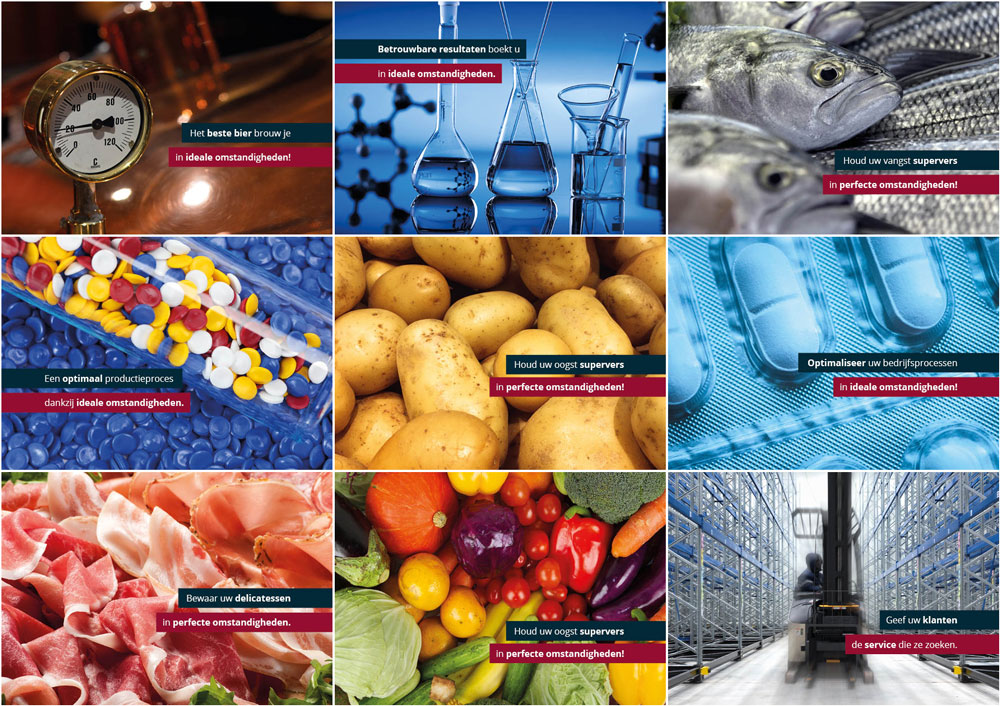 Aan de binnenzijde kon men een korte inleiding lezen, opnieuw gericht op elke sector, een korte voorstelling van onze producten en diensten bekijken en "De voordelen van koeling huren" lezen.
Op de achterzijde stonden onze contactgegevens, maar er werd ook een visitekaartje op bevestigd. Bedoeling hiervan: het drieluik beland hoogstwaarschijnlijk bij het oud papier (alhoewel ik zelf hem zou inkaderen), maar hopelijk bewaren ze het visitekaartje en blijft onze naam nazinderen. En net dat is de bedoeling!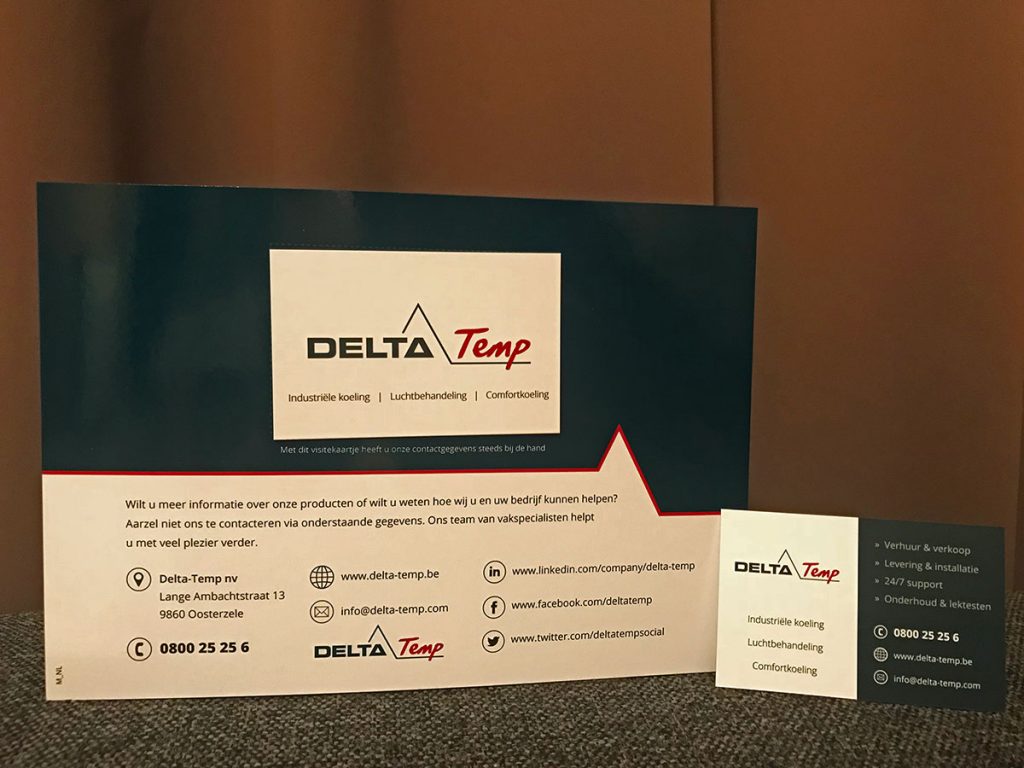 Ready? Set… GO!
Voor de productie van het drukwerk en de verzending ging ik in zee met Omnilevel, waar ik tot 6 maand terug zelf nog werkzaam was als Direct mail Coördinator (isn't it ironic?). Ere wie ere toekomt, het werd perfect afgehandeld en het resultaat mag zeker gezien worden! Vooral het 300gr papier en de glanzende lak aan de buitenkant van het drieluik geeft een stijlvolle indruk.
Zoals gezegd werd deze D.M. afgelopen week verstuurd. Om te voorkomen dat deze mailing een stille dood sterft zal deze nog via een telemarketingbureau en een emailcampagne opgevolg worden.
Meer beelden van deze mailing vindt u op mijn 'Portfolio'-pagina.